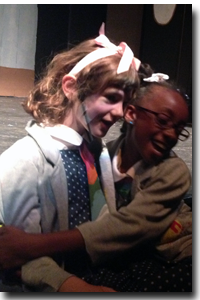 Allens Lane Art Center offers the Summer Art Camp to 120 at-risk youths, ages 5-12, in Philadelphia, PA.  The camp is for 8 weeks, five days a week.  The youths receive professional instruction in dance, drama, voice, music, poetry, painting, drawing, crafts, and ceramics.  The youths' paintings and ceramic pieces are exhibited in the Center's gallery twice during camp.  Also, youths present musical theater performances in the Center's theater.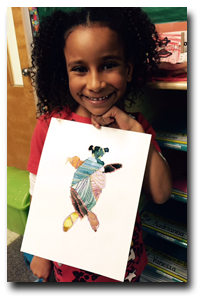 Art in the School's After School Art Program serves 250 at-risk youths, ages5-11, at three elementary schools in Albuquerque, NM. The curriculum includes looking at and discussing great works of art as well as making art:  painting, drawing, print making, pottery, and mixed media.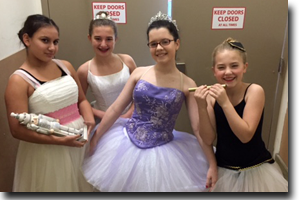 Art With a Heart offers the Afterschool Program to at least 600 at-risk youths, grades K-8, from six schools in the Indianapolis Public School district.  Each program is 10 weeks long, four days a week, and is designed with a multicultural theme that builds understanding of geography and other cultures in addition to artistic skills.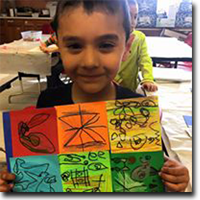 ARTsmart's Summer ARTcamp and ARTclub programs serve 827 at-risk youths, grades K-12, from Santa Fe, NM. ARTclub is weekly on Saturdays, and features hands-on art education for middle school and high school students.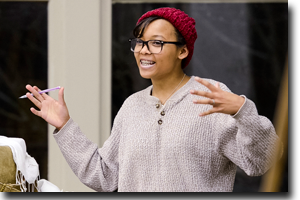 Asian Arts Initiative's Youth Arts Workshop serves 80 at-risk Philadelphia, PA youths, ages 10-16, during the school year.  Workshops include mixed media, arts and music.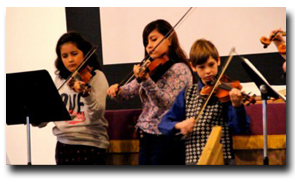 Augustana Arts provides the City Strings program to 130 at-risk Denver, CO youths, ages 8-16.  The program is an after-school and year-round Saturday stringed instrumental music program that serves nine neighborhood locations.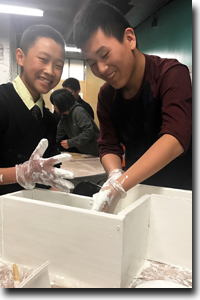 BackStory Theatre offers their Academy School-based Workshops at 2-3 elementary schools, serving 80-100 at-risk youths, grades K-5.  They hold at least five classes at each school.  The schools are located in Broomfield, Thornton, and Westminster, CO.



Blue Sage Center for the Arts serves 1,500 at-risk youths, ages 5-18.  The program offers visual and performing arts through their After School Program and Summer Camps.  Field Trips include sending touring musicians into schools and providing field trip opportunities for schools.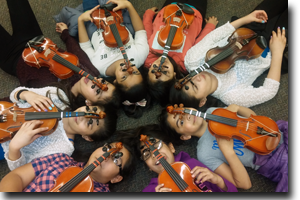 Blue Sky Bridge's Creative Arts Program serves 355 at-risk youths, ages 2-18, in Boulder and Lafayette, CO.  The youths are exposed to different types of art and mediums, including pastels, papier-mâché and watercolor.  



Boyer College of Music and Dance provides the Community Music Scholars Program (CMSP) to at least 240 at-risk youths, ages 5-18, in Philadelphia, PA.  CMSP is a comprehensive program of jazz and classical music instruction for school children.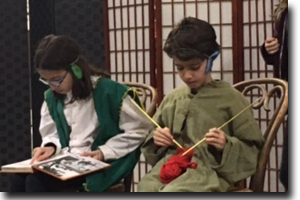 Calliope! Inc's Summer Program is a 5-week workshop that includes all aspects of musical theater for youths, ages 6-18, from the Salida, CO area.  The workshops are divided into performance, technical, and by age.  The workshops are 4-5 days a week, and culminate in a weekend of performances at the local high school.  Fifteen at-risk youths participate in the workshops.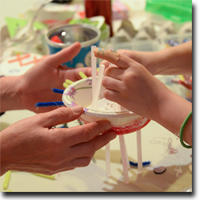 Center for Emerging Visual Artists offers the Hand-in-Hand program, serving 1,000 homeless youths, ages 5-18, in Philadelphia, PA.  The weekly classes are 1½ hours for 10 weeks at collaborating social service facilities.  The Center selects local teaching artists to teach the classes.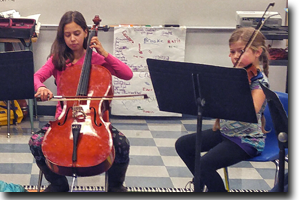 Chicano Humanities & Arts Council provides the Children's Cultural Arts EducationProgram to at least 5,300 at-risk Denver, CO youths, grades K-12.  Chicano Humanities & Arts Council works with area schools and organizations through a variety of workshops to provide youths with authentic cultural opportunities in the arts, specifically dance, music, theater and visual arts.

The Clay Studio offers the Claymobile, a mobile ceramic arts outreach program, to 60 at-risk youths, ages 5-21, who face emotional, behavioral, and academic challenges at Wordsworth Academy in Philadelphia, PA.  They provide therapeutic ceramic art education through two–week residencies, with each youth receiving a minimum of nine hours of ceramic art instruction.  The youths will have the opportunity to showcase their artwork at the annual Claymobile Creations exhibition for youths, families, teachers, and the community.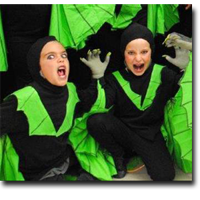 Colorado Children's Chorale provides the Community Choirs program to 126 at-risk youths, ages 7-18, in the Denver, CO area through five choirs.  The choirs rehearse weekly with emphasis on vocal warm-ups, the importance of good posture, the importance of focus and following the conductor, and teamwork.  Each of the choirs performs in their communities.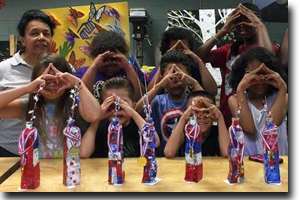 Colorado Music Festival & Center for Musical Arts provides the Dalcroze program to 150 at-risk youths, grades 1-8, at 4-5 schools.  Dalcroze teaches concepts of rhythm, structure, and musical expression using movement and allows youths to gain physical awareness and experience music through training that utilizes all of the senses.  Schools served are in Lafayette and Erie, CO.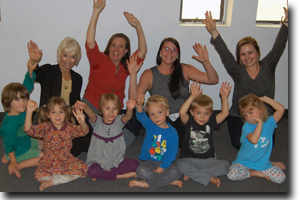 Creede Repertory Theatre offers the KID Show Youth Theatre program to 16 at-risk youths, ages 10-18, in Creede, CO.  The 4-8 week program provides a free, safe, creative space for the youths.  A professional team of actors, directors, sculptors, playwrights, painters, designers and stage managers mentor the youths through the process of creating a fully produced, original show.  The youths design and build costumes, scenery, and puppets while rehearsing the play they perform. 

Dance Kaleidoscope provides the Education and Outreach program, serving 720 at-risk youths, grades pre-K-6, at four locations in Indianapolis, IN.  The youths learn strengthening and conditioning and basic dance movements, and will rehearse for public performances.  They will also offer 12 scholarships for advanced dance workshops.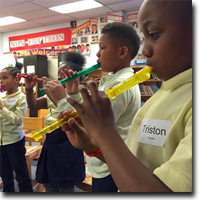 Darlington Arts Center has two outreach programs. The Chester Theater Arts Program serves 50 at-risk youths from Chester, PA, grades K-7, with instruction in acting, dancing, and singing. Classes focus on building performance skills and culminate in performances for family and friends twice a year. The Chester County Family Academy Suzuki Violin program serves 75 at-risk youths, grades K-2. The youths have completed Head Start but are not ready for a mainstream classroom. The youths receive 5 hours of lessons each week.  

Denver Young Artists Orchestra's Tune Up! and Group Strings Classes serve 36 at-risk Denver, CO area youths, ages 7-11.  Classes operate in four schools providing three levels of strings classes.  The youths are loaned an instrument while they are in the program.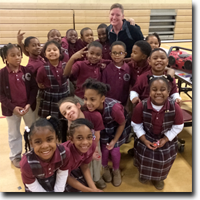 Dixon Community Players offers the Drama Camp to 29 at-risk youths, ages 7-17, serving the Embudo Valley of rural northern New Mexico.  The 2-week camp introduces the youths to theater and film through acting, hands-on video-taping, directing and editing.



EcoArts Connections' 4 Stories for a New Future program will serve 700 at-risk Latino middle school and high school youths in Lafayette and Boulder, CO.  Programs include performances in assemblies, during school classes/workshops, after-school workshops in theatre, art, poetry/rap, and nature photography.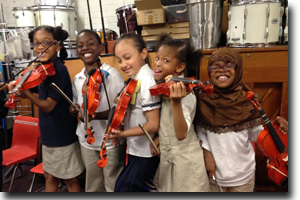 Embudo Valley Library & Community Center's Teen Tile Mural Project serves 4 at-risk youths, ages 14-17, in Dixon, NM.  The youths are paid to work with a ceramic artist to create a mural for the side of the local Cooperative Market building.  The youths learn cultural and geographic history from the local historian, choose a site to draw, then translate their drawings onto tiles to be inset in the mural.



Expressive Path Expressive Path in Jeffersonville, Pennsylvania has helped at-risk youths, ages 12-19, participate in the creative arts since September 2014.  They support teens in the foster care system, juvenile justice system, alternative programs, mental health system, and children at or near the poverty level.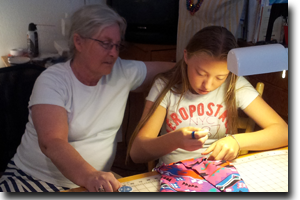 Fleisher Art Memorial's Teen Lounge program serves more than 120 at-risk youths, ages 14-18, in Philadelphia, PA.  The free, drop in after-school program engages youths in enriching arts-integrated learning opportunities.  The program includes visiting artists, open mic nights, public interventions, paid employment opportunities for two Teen Lounge youths, and field trip and exhibition opportunities.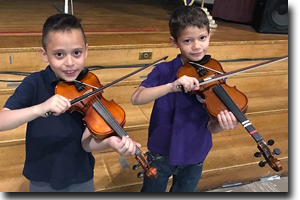 Frequent Flyers Productions offers the Kids Who Fly program to 450 at-risk youths, ages 8-18, from Boulder and Denver, CO.  Kids Who Fly builds healthy risk-taking behaviors, works constructively on self-esteem issues, and helps youths experience the unique joy of artistic expression through attending low-flying trapeze classes designed specifically for at-risk youths.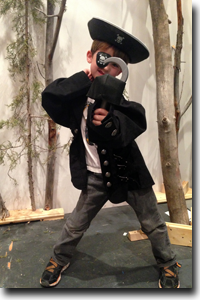 Georgia E. Gregory Interdenominational School of Music serves 20 at-risk youths, ages 6-18, in Philadelphia, PA with the Summer Music and Performing Arts Camp.  During the 6-week camp, the youths receive music and performing arts instruction, cultural and recreational activities, recitals, and outdoor play.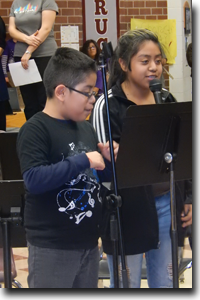 Harrington Arts Alliance Harrington Arts Alliance in Loveland, Colorado receives referrals and conducts outreach to troubled youths and offers them in-depth, creative summer activities.  Their programs include summer camp and theatre productions to at-risk youths, ages 4-18. The youths explore their creativity in acting for the stage and the camera, dancing, singing, improvisation, and fun theater games.


HalfMoon Arts offers the Youth Arts Apprenticeship Program to 140 at-risk youths, ages 13-18, in Fort Collins, CO.  The youths learn how to improve their artistic skills in the medium of their choice with professional artists and musicians.  They also learnbasic work and life skills.  The youths are eligible for paid apprenticeships, assisting with teaching classes and planning events.  They are collaborating with an alternative school in Loveland.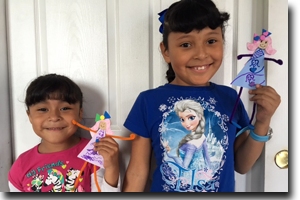 Heart & Hand Center serves 104 at-risk youths, grades K-12, from 15 schools in the Five Points area of northeast Denver, CO.  Each week day, the youths arrive after school and are given a hot meal, time for homework and tutoring, and then participate in an enrichment activity that supports learning and/or social-emotional development.  The Arts Expansion program offers art therapy and performing arts programs:  choir, break dancing, step, art therapy, and spoken word poetry. 



High Valley Community Center's After-School and Fabulous Fridays Program serves at least 115 at-risk youths, ages 5-17, in Del Norte, CO.  The After-School Program provides a meal, homework time, and cultural arts programming Monday – Thursday.  With no public school on Fridays, the Fabulous Fridays Program provides morning and afternoon programming that includes dance, gymnastics, swimming, museum visits, and planting tree saplings.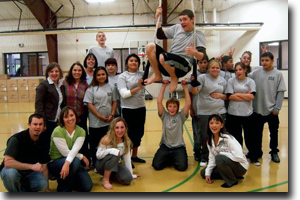 Imagination Makers Theater Company offers the Improvisation Performing Troupes program, serving 30 at-risk youths, grades 4-6, at one elementary school in Arvada, CO.  Training takes place at the school.  Performances are held at their school, off-site at other schools, and at senior centers.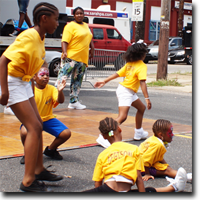 Indiana Writers Center's Building a Rainbow program, in Indianapolis, serves 200 at-risk youths, ages 6-15. The 5-week program improves the youths' writing and literacy skills.  Using variations of three writing exercises, the instructors guide the youths through a process in which they remember and visualize moments in their lives, write them down in a series of steps, and shape them into finished stories and poems.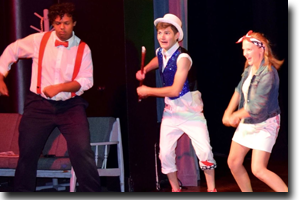 Indianapolis Children's Choir serves 1,500 at-risk youths, ages 1½ - 18, in Central Indiana, with their Everyone COUNTS (Community Outreach Uniting & Nurturing Through Song) program.  The youths are offered the chance to sing, move, and learn while developing cognitive, language, social and motor skills.